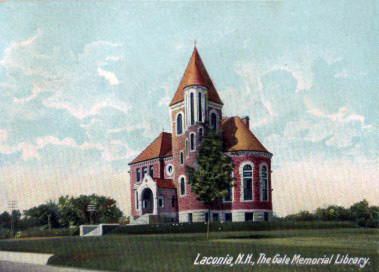 At the 1878 town meeting, Laconia's voters raised $1500 to establish a public library. This library opened in 1879 in a rented room in The Folsom Block. Ten years later it moved to the Laconia National Bank Building; then to the basement of the Unitarian church until the present building was ready.
Napoleon Bonaparte Gale, a local banker, died in 1894. He was kind-hearted, generous, enterprising and greatly respected. He left the bulk of his fortune to the City of Laconia for a park and a public library building. Land was purchased and the building was under construction from 1901-1903. It was dedicated in June 1903. The Gale Memorial Building houses the Laconia Public Library and is listed on the National Register of Historic Places.
The main library building is a fine example of Romanesque Revival style – a style that emphasizes weight and mass through rock-faced masonry, heavy arches, and broad roofs. This style was inspired by H. H. Richardson designed by Boston architect Charles Bingham and built by E. Noyes Whitcomb and Co. of Boston, using Deer Island granite, New Brunswick granite, oak paneling, and stained glass windows.

In 1956-1957 a two story wing was added on to house the Children's Room, a workspace area, and the Martha Prescott Auditorium.
The Gale Memorial Library is located on N. Main St. in downtown Laconia.