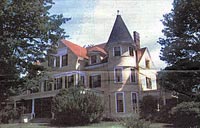 Built in 1891-1892 by Dr. Frank Green of Patent medicine fame. Built on the southern end of Long Isalnd, Moultonborough, it commands a spectacular view of the Belknap Mountain Range and the "Broads" of the lake. It is known as "A Jewel on Long Island"

The construction of Windermere and its related buildings was spread over two years. All the materials used came by boat, barge, horseboat, and by steamboat from Lakeport, NH. Approximately one hundred workmen camped in tents on the property while the mansion was under construction. This was customary in the days before the automobile made possible the daily "portal to portal" approach. Dr. Greene, while the building went on, frequently stayed at the Long Island Inn as he watched and guided the progress. Although the materials were transported by boat, and although one hundred men were involved in the building which took two years, the cost of the three main buildings: the mansion, the gate house, and the barn, added up to $16,000.
Windemere is located on Long Island off of Moultonborough Neck Road in Moultonborough, NH.