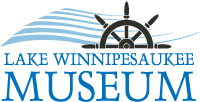 Preserving the History & Heritage of Lake Winnipesaukee & Vicinity








Welcome to the website for the Lake Winnipesaukee Museum, part of the Lake Winnipesaukee Historical Society. Here at the museum, and in greater part, the historical society, we are dedicated to preserving the history of Lake Winnipesaukee and the towns that circle its shores. To help fulfill that mission, we have created this website to serve as your virtual portal to the history of the region. Use these links below to begin exploring now!
The Lake Winnipesaukee Museum Is Closed For
The Season!
See You Next Spring!
Watch this space for updates about our 2017 Lecture Series!

Show off your Love for the Big Lake with Historical Society Gear!