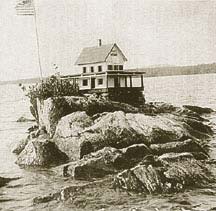 Becky's Garden...the smallest charted
island in the lake.

.
An early settler of Center Harbor had several daughters, of whom the loveliest was Rebecca. While her sisters were frivolous and spoiled, Rebecca was a model young lady, and she beautified the surroundings of her father's house by her care of her garden, of which she was justly proud. One day her father's cattle escaped, and, before they were noticed, they had laid waste the beautiful garden plot. Rebecca was heartbroken, and her father, by way of consolation, offered her as a gift any one of the numerous islands in the lake which she might care to choose.


Her sisters clamored for the same dower, and their father finally consented, giving Becky her first choice. This caused her sisters to be so envious that Becky decided to choose the smallest island she could find, and selected the one which bears her name today, an island that is scarcely more than a bush-covered rock. The other daughters picked out large, verdant islands.
The story of Becky's choice travelled far, as stories will; and a wealthy young farmer in the vicinity became so interested in hearing of the unselfish young maiden that he sought her acquaintance, and, finding her an attractive young lady, wooed and won her for his bride. Thus it was said that Becky's Garden, though the smallest of islands, produced the greatest results. Today, each year, a model house, complete in every detail, is placed on the island to distinguish it as inhabited despite its size — all in memory of the unspoiled Becky.